Giving
"Awe came upon everyone, because many wonders and signs were being done by the apostles. All who believed were together and had all things in common; they would sell their possessions and goods and distribute the proceeds to all, as any had need."
- Acts of the Apostles 2:43-45
Like Jesus's followers in the earliest days of the Church, each of us is urged to build up of the Body of Christ by donating our time, talent, and treasure. Episcopal congregations often feel awkward talking about money; and yet, it is a necessary part of fulfilling the Church's mission. Understanding financial stewardship as a spiritual practice based on gratitude and generosity is one step in learning to talk about money in healthy and non-anxious ways.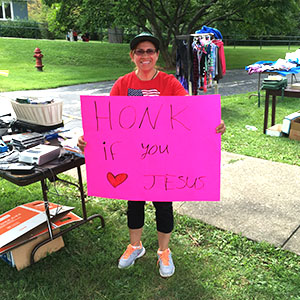 St. Paul declares in his First Letter to the Corinthians, "Now there are varieties of gifts, but the same Spirit; and there are varieties of services, but the same Lord; and there are varieties of activities, but it is the same God who activates all of them in everyone. To each is given the manifestation of the Spirit for the common good."
Each person has unique gifts. Our members contribute to the life of St. Helena's in a variety of ways by offering their time and talent. We clean the building and mow the lawn. We volunteer our business expertise and bring communion to the homebound. We teach Sunday School and read the lessons at Mass. We make in-kind donations of picnic tables and paper towels. All of these efforts build up the parish and are of both spiritual and financial value. Please let us know how you might like to contribute to the health and vitality of our community.
Like many churches, St. Helena's must conduct a number of fundraisers every year, including our big Third of July parking lot fundraiser, to raise money to meet our expenses and advance our growing mission. In addition to the money we raise, these fundraisers are great opportunities to connect with the local community. Volunteering at one of these events is a fun way to support the church, while offering hospitality to our neighbors.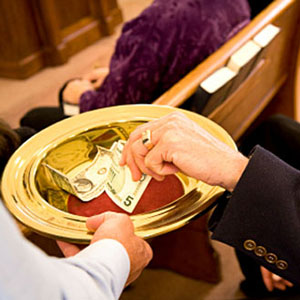 An annual financial pledge is a powerful sign of our commitment and our stake in the parish's future. It expresses a person's generosity in gratitude for the ways the church has blessed his or her life.
Making a formal financial pledge is also important, because it allows the parish's clergy and lay leaders to budget more accurately and responsibly for the coming year. For a small, growing parish like St. Helena's, one person's pledge can make a huge difference in what we can accomplish. Not only do our pledges allow us to have a priest and musicians and maintain our beautiful building; but they support the parish's numerous ministries that our staff, building, and parishioners make possible.
Whether your financial situation allows you to give a lot or to give a little, your pledge is an important sign of trust and commitment.