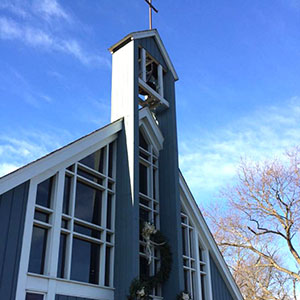 On March 6, 1959, a petition was approved for the formation of a mission in Pleasantdale (now Burr Ridge), and the first services were held at Pleasantdale School in September 1959. Ground was broken for a new church building on September 27, 1964, and the first service held in the building on May 23, 1965. On October 21, 1979, the mission officially became a parish of the Episcopal Diocese of Chicago.
From our earliest days, a deep love of ritual has been a strong feature of our identity. As beloved parish historian and artist, Peggy Anderson, noted "St. Helena's became a eucharistically centered church in the Anglo-Catholic tradition … incense, bells, a new tabernacle, several shrines and the Stations of the Cross all became a part of St. Helena's worship life, with strong support of the people." Although much about our parish has changed over the years, many of these hallmarks remain. St. Helena's continues to be a community grounded in worship that stimulates our senses and emotions, as well as our minds.
An Authentic Community of Faith
St. Helena's is a parish of the diocese of Chicago in the Episcopal Church, which is part of the worldwide Anglican Communion. Episcopalians, or Anglicans, as we're also called, claim both Catholic and Protestant roots, which you will see in the ways we worship, study the Bible, and apply the Christian faith to real life.
Of course, there's more than one way to be an Episcopalian. One of the joys of St. Helena's is our diversity in music, traditions, and culture. We are united by our Anglican heritage and the Book of Common Prayer, but we enjoy great freedom in how we express our Episcopal identity.
Our people are diverse, too. We are single and partnered or married. We are gay and straight. We are English-speakers and Spanish-speakers; and some of us are fluent in both. We are cradle Episcopalians, lapsed Roman Catholics, and former Christian Reformed.
One of our most distinctive features is our intimacy. Our small size is our super power, because it allows us to really know each other and to be authentically and unapologetically ourselves. You never have to pretend to be someone you're not. If you're looking for a church where you don't have to put on a brave face when you're struggling or don't have to worry about being judged, St. Helena's may be the home for you.