Pastoral Services
People come to church for a variety of pastoral reasons: to heal, to find community, or to mark one of life's milestones. At these times, the church can be a source of strength and stability. If you have a particular pastoral need or concern, please Fr. Ethan or one of our lay leaders.
Baptism is full initiation through water and the Holy Spirit into Christ's Body, the Church. In the Episcopal Church, we baptize people of any age, including adults, usually on the four principal baptismal feasts: the Baptism of Our Lord, the Great Vigil of Easter, Pentecost, and All Saints' Day. Because our theology of baptism is grounded in the commitment of the local parish to support the person in their faith journey, baptisms are usually celebrated publicly on Sundays when the whole congregation is present, rather than as private family affairs.
Confirmation and Reception
Confirmation is a mature affirmation of faith and commitment to the way of Jesus. In this sacrament, the bishop lays hands on the person's head and calls upon the Holy Spirit to strengthen and equip the person for their life in Christ. People already confirmed in the Roman Catholic, Orthodox, and certain other traditions are received into the Episcopal Church, rather than confirmed. Individuals who have been confirmed or received may also choose to reaffirm their baptismal vows on any occasion when confirmations are planned.
Couples wishing to get married at St. Helena's should consult with Fr. Ethan for a preliminary conversation well in advance of the wedding date. The Episcopal Diocese of Chicago usually requires three sessions of pre-marital counseling prior to the wedding.
Wedding Anniversaries and
Renewal of Marriage Vows
Couples that wish to observe a special wedding anniversary or renew their marriage vows may ask Fr. Ethan to include this ceremony in the principal Mass on Sunday. It is appropriate that children and other family members attend and participate in the ritual in order to support the couple in their life together.
The blessing of a home is a recognition that God is present with us not only in church, but in the many places we live our lives. Fr. Ethan is happy to come to your home to offer God's blessing and protection.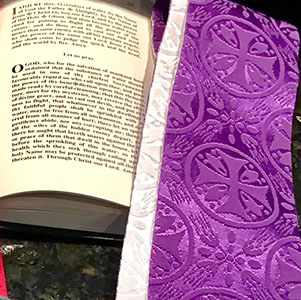 Reconciliation (Confession)
The Sacrament of Reconciliation is a space God offers us for support and encouragement as we try to become better people, make more ethical decisions, and engage in healthier relationships. If you are interested in making use of the Sacrament of Reconciliation, please speak to Fr. Ethan to make an appointment.
All of us go through periods in our lives when we struggle with challenges. Whether it's an illness, grief, addiction, or financial difficulties, we all need support. Please reach out to Fr. Ethan if you find yourself in distress, and we will offer you pastoral care and direct you to community resources related to your concerns.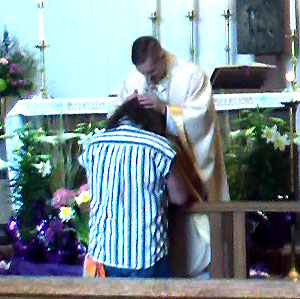 Laying on of hands and anointing with holy oil is a healing practice that comes to us from the earliest days of Christianity. People who would like to receive anointing and prayer during Mass are encouraged to come to the altar rail at the end of Communion. Anointing can also be requested during long illnesses, hospital stays, and at the end of life.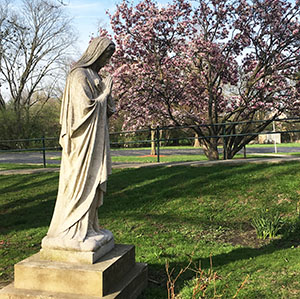 When a person reaches the end of life, the family is encouraged to contact the parish to ensure adequate pastoral care and discuss Last Rites and arrangements for a funeral or memorial service.