serving
Among the chief duties of a Christian are spiritual and corporal acts of mercy based on the loving ministry of Jesus. Spiritual works of mercy attend to the nurture of people's souls: comfort the sorrowful, forgive all injuries, bear wrongs patiently, counsel the doubtful, dispel ignorance, confront sin, and pray for the living and the dead. Corporal (bodily) works of mercy care for people's physical needs: feed the hungry, give drink to the thirsty, clothe the naked, visit the imprisoned, shelter the homeless, visit the sick, and bury the dead. People at St. Helena's are fulfilling this responsibility in a growing number of ministries in the neighboring community.
The Blessing Pantry is our latest ministry to the community. For many years, we had collected food and transported it to a neighboring food pantry for distribution. Recently, however, we have felt the need to deepen our hands-on commitment to those who experience hunger by serving as a place for both bodily and spiritual nourishment. The Blessing Pantry is stocked regularly from donations from parishioners, which we bless every week at the altar, and through collections of non-perishable food and other supplies from the neighborhoods near the church. We also occasionally do special collections, such as our collection of 11 boxes of food, which were sent to Puerto Rico to assist disaster relief efforts following Hurricane Maria.
Several afternoons a week, Fr. Ethan holds office hours at a local Starbucks to serve as a ministry of presence to the local community. Both parishioners and passersby come for prayer, pastoral care and counseling, and to ask questions about faith and spirituality.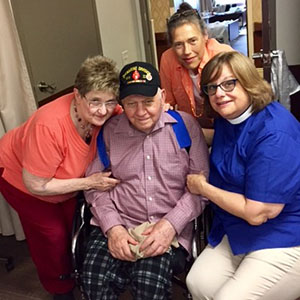 Threshold Choir is an international organization whose mission is described as:
"Our goal is to bring ease and comfort to those at the thresholds of living and dying. A calm and focused presence at the bedside, with gentle voices, simple songs, and sincere kindness, can be soothing and reassuring to clients, family, and caregivers alike."
Our choir rehearses twice a month and draws its singers from inside and outside the church community. We have singers in several nursing homes on a weekly basis and visit individuals in private homes, as well. We sing to people who are in pain, suffering from Alzheimer's disease and dementia, and those who are actively dying. Hospice training has been provided by Little Company of Mary Hospice, and our director is an experienced health care chaplain.
There is no charge to join the group, and we give our time as a gift to the people we see. Singers interested in the choir should contact Deacon Daryce Hoff Nolan.
St. Helena's participates in a number of other outreach activities, such as the communion and visit ministry of parishioner, Deidre Burke, at two local retirement communities; our witness on workers' rights; and the recent participation of both children and adults in the March For Our Lives protest against gun violence in schools.